National Weather Service Alerts for Carroll County, MD
Welcome to the Website for the
Carroll County Volunteer Emergency Services Association
World Trade Center Artifact Memorial Drawings
Training Center Dedication Ribbon Cutting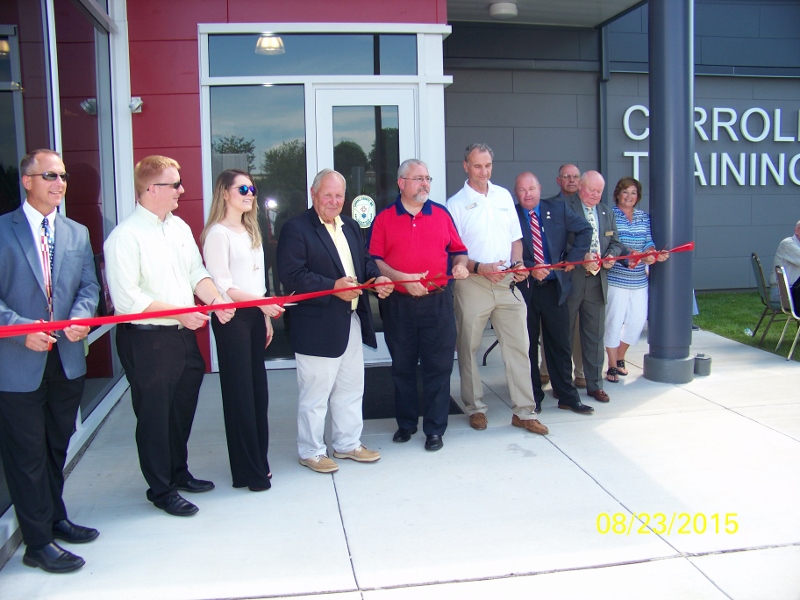 l-r: Scott Moser, C.C. Gov.; Rob Manns & Emily Ratzlaff, Architects; C.C. Commissioners Weaver, Howard, Frazier and Wantz;
Don Fair, 1st V.P. CCVESA; Charles Simpson, Jr., Pres. CCVESA and Missy Green, 1st V.P. ACCVESA
Charles J. Simpson, Jr., President

Mr. Simpson has over forty-three years experience in emergency services as a volunteer firefighter/paramedic, volunteer EMS Captain and Company Board member. He has been a Maryland EMT for forty-three years and a Maryland ALS provider/Paramedic for forty years. As a fourteen year member of the Pleasant Valley Community Fire Company he serves as the Electronic Services Chairman and Webmaster and is also a forty-three year member and Life member of the Westminster Fire Department. Mr. Simpson has served as the President of the Carroll County Volunteer Ambulance Association and Chairman of the Carroll County Medical Advisory Board. He has worked as the EMS Training Manager for the CCVAA and as EMS Director/Chief of Dorchester County. Mr. Simpson has thirty years experience teaching emergency services classes for MFRI. He has served on numerous State and National Committees for Fire and Emergency Medical Services including the MSFA EMS and Training Committees and the MIEMSS Regional Council and Jurisdictional Advisory Committee.

Mr. Simpson served ten years with the Maryland National Guard as an artillery surveyor. In 1998 he retired with thirty years experience from Verizon Telephone Company engineering department. On January 1, 2013 he retired from the Maryland Emergency Management Agency where he served as Operations Manager and Coordinator for State NIMS and ICS Compliance. He has been married for forty-five years and has two children and six grandchildren.

Donald Fair, 1st Vice President

Fourth generation member of the Lineboro Volunteer Fire Department and Life Member, joining in 1966. Held the following positions in Lineboro Volunteer Fire Department; Assistant Secretary, EMS Captain, Fire Captain, Safety Officer, 2nd and 1st Vice President, and currently, President and the CCVESA Budget Committee representative.

Was hired by Baltimore County Fire Department 1973. Promoted to the rank of Paramedic in 1978. Promoted to Paramedic Coordinator in 1980, EMT Instructor for MFRI from 1984 to 1996. Promoted to Fire Lieutenant in 1986. Promoted to Fire Captain in 1995, assigned to the Haz Mat Team. Retired in 2004 with 32 years of service.

Currently employed as an intermittent employee with the U. S. Department of Health and Human Services, National Disaster Medical System, as an Emergency Planner.

President of the Red Knights International Firefighters Motorcycle Club, Maryland Chapter 5, and President of the RKIFMC Maryland State Association.

Married 43 years, have 4 children and 3 grand children.
Advanced Vehicle Extrication and Stabilization Course to be held in New Windsor

Member Tom Coe, October 01

Mid Atlantic Technical Rescue's Advanced Vehicle Extrication and Stabilization Course will be held at the New Windsor Fire Department on Friday November 6th through Sunday November 8th.

This highly sought after program is again being offered in central Maryland. This 2+ day program, developed and taught by Mid-Atlantic Technical Rescue, has become extremely popular in the region. Focusing on large ... (Full Story & Photos)


Imagine from the CDC (www.cdc.gov)

The FLU is HERE in CARROLL COUNTY

Member David Coe, January 07

The flu is here in Carroll County. The Carroll County Health Department has three simple recommendations for you to follow to avoid getting the flu this year.

1. Get a Flu Vaccine

There is still time to get the flu shot or Flu Mist, to help avoid getting the flu this season. If you would like more information on where you can get the flu vaccine, or more general information about the flu, please ... (Full Story & Photos)

Ebola.... What You Need to Know!

Member David Coe, August 11

The following information has been released by the Carroll County Health Department, along with the Center for Disease Control and Prevention and is current as of August 5, 2014

The most recent health concerns being raised in the news is Ebola. While experts feel that it is unlikely to pose a threat in the United States, the CDC (Centers for Disease Control and Prevention) is taking many steps to ... (Full Story)




Burt Clark from NFA Announces Retirement

Member Debbie Gartrell, March 19

Fire/EMS/Emergency Services
you are cordially invited to attend
a retirement celebration, dinner, and dance
in honor of
Dr. Burton A. Clark, EFO
celebrating 42 years of government service
May 3, 2014
5:00 p.m. – 10:00 p.m.
Emmitsburg Ambulance Company
17701 Creamery Road
Emmitsburg, MD
The cost is $25 per person or $40 per couple. All proceeds will be donated to the National Fire Heritage Center ... (Full Story & Photos)

Feel free to sign the guestbook.